Top Rated Beach Team building
Hilton Head Team Building
Impress your group, build comradery and most of all…..HAVE FUN!! Join Coach Ken and crew for unforgettable beach team building experience for your small business, corporation, sports team, or family. The beautiful LowCountry and warm Carolina beaches are the perfect backdrop for this amazing program which includes engaging group beach games and coordinated activities!
business team building
"Being pushed outside our comfort zone and forced to rely on peers who we didn't know well was so valuable. It forced us to break down interpersonal barriers because we needed each other to succeed."
Our team-building programs consists of non-traditional games, warm-ups, trust activities and group problem-solving initiatives. We focus on creating an environment where individuals see directly that they can achieve quicker and better results by pooling skills, sharing information and working closely together.
TEAM SKILLS TARGETED AND STRENGTHENED INCLUDE:
COMMUNICATION

TRUST

DECISION MAKING

CONFLICT Resolution
We use games and play to open minds, stimulate fresh thinking, encourage communication and HAVE FUN!
One of the potential out comes, is for real meaningful growth within the group that may translate into everyday life. Results can range from surprising to transformational.
A cohesive team is a productive team and ultimately, the knowledge they gain in our sessions will reflect positively in your customer relationships. Each program is designed to your group's particular goals, budget, location and time constraints.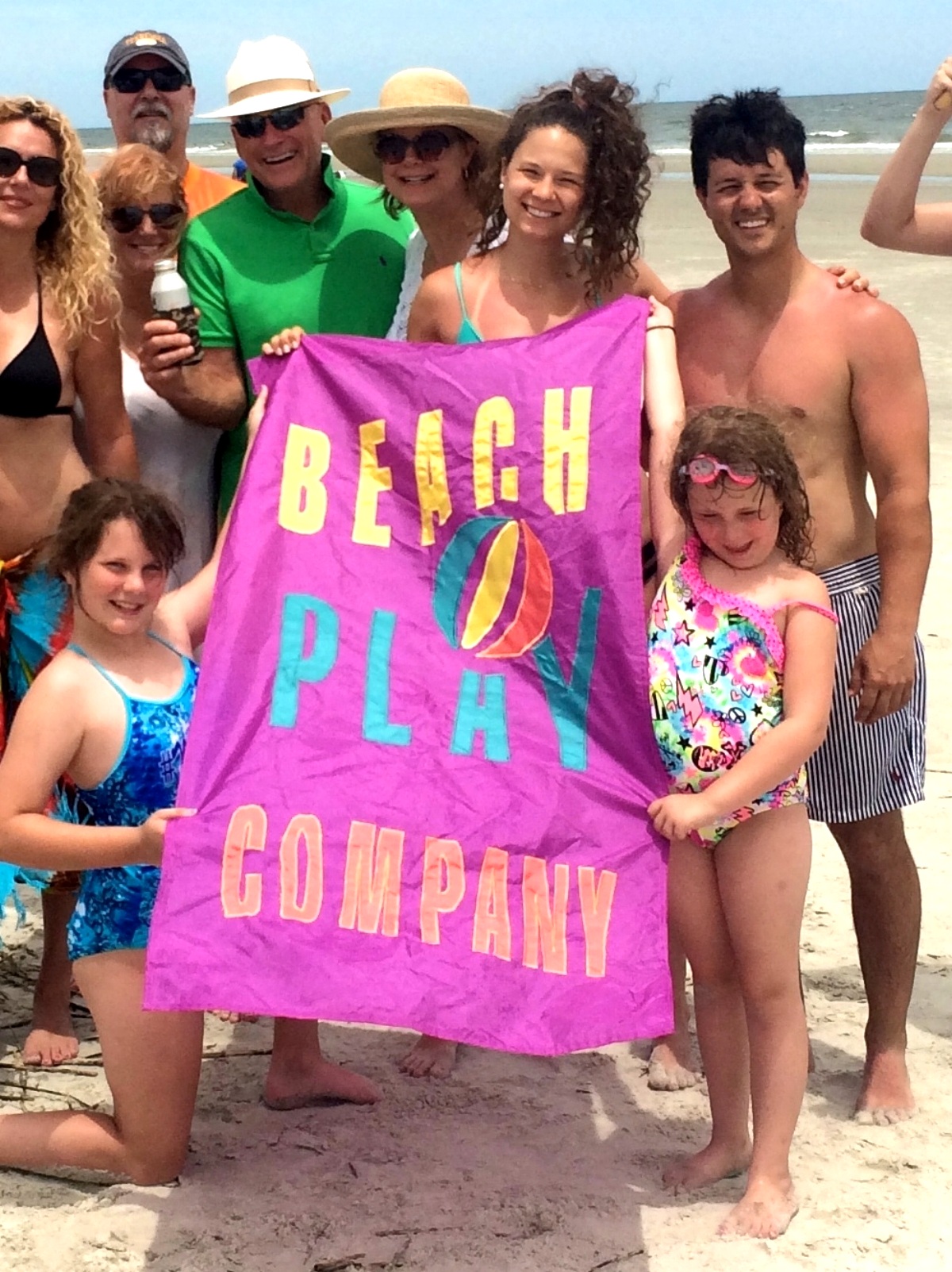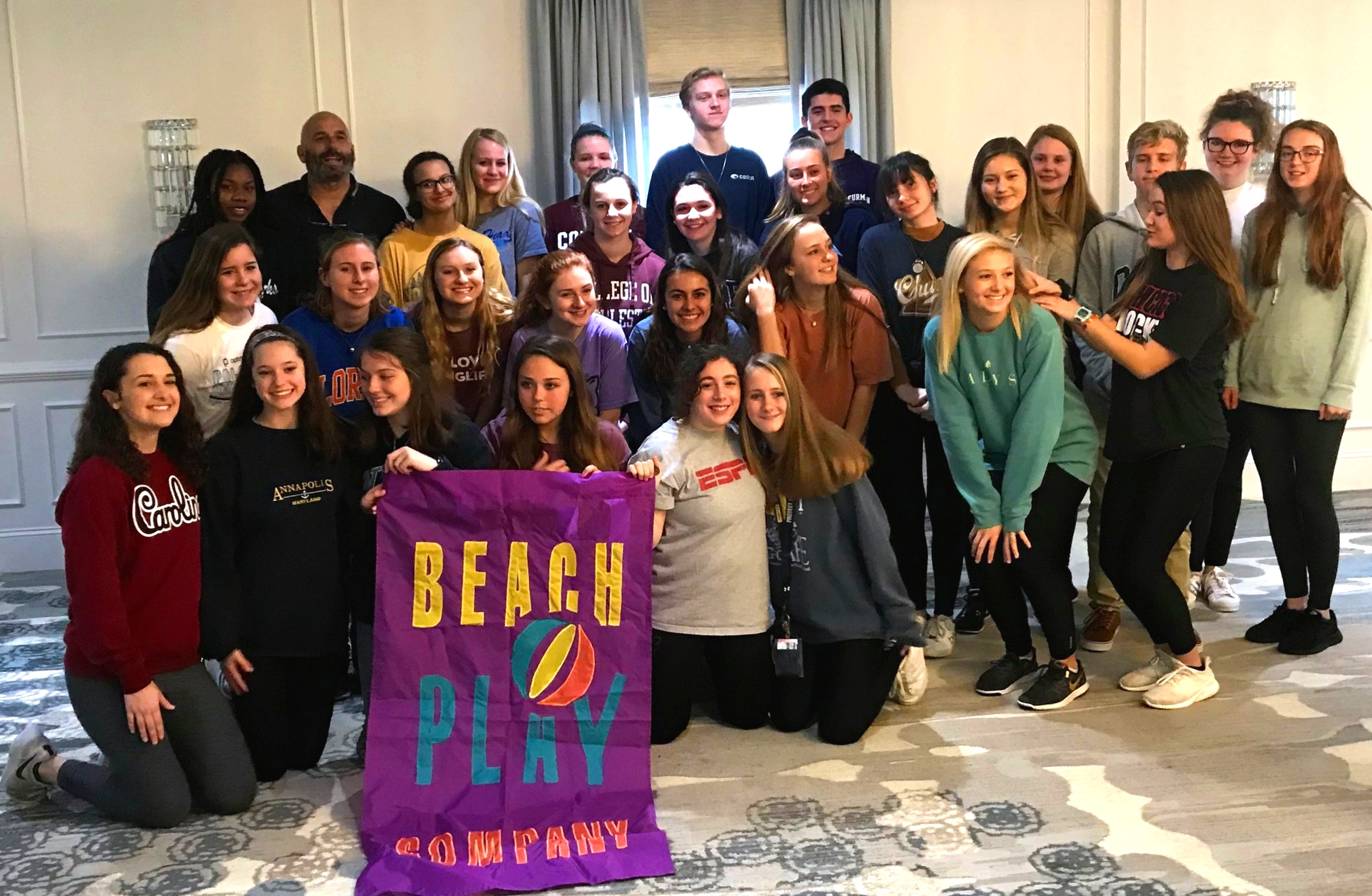 Organized Family Beach Play in Hilton Head
Welcome to the #1 Beach Vacation Playground in the continental United States! Now that you're here on Hilton Head Island – or planning to be here soon – why not take a real vacation and let Beach Play Company and Chief Playmaker Ken Weisner customize a fabulous and playful beach party for your family and friends.
Our two hour Beach Play Company party packages are designed to fit every kind of beach family: from athletic competitions to nature explorations to laid back sandcastle building, bocce ball, and corn hole to personalized birthday beach bashes.
Whatever beach party package floats your family boat, if you're looking for a fun new way to come out and play on Hilton Head Island, call Ken at Beach Play Company today … and let the games and memory making begin!
Beach Party Packages
All Beach Play Company beach party packages include guided and interactive activities personally directed by Beach Play Company Founder and Chief Playmaker Ken Weisner. A little local island education along the way makes each Beach Play Company party an enjoyable learning event, but the focus is always on safety, togetherness, and fun!
Photography and video services are available to document your family's fun day, as are personal concierge and catering services. Just let Ken know what you need when you book your party.
All packages can be customized to your personal specifications in order to create your perfect beach party. If you don't see what you're looking for in the package descriptions below, let Ken know what you do want when you book your party.
Package #1: Active/Competitive
For those who like to play it like the Kennedy's, our Active/Competitive Family Party Package is the perfect beach party choice. Activities include: Beach Olympics, beach volleyball, relay races, sand soccer, flag football, spike ball and more.
Package #2 Just Chillin'
For those who prefer a more laid back, traditional day at the beach. Activities include: corn hole, bocce ball, horseshoes, scavenger hunt, Italian golf, Noodle games, Scavenger hunts, sandcastle building and more.
Package #3: Island Explorer
Designed for those want to experience a little local adventure, our Island Explorer beach party is just the ticket. Activities include: surf fishing, crabbing, net casting, shell collecting, scavenger hunts and more.
Package #4: Beach Birthday Bash
Make it an extra special day! Beach Play Company offers personalized beach birthday parties for all ages. Ken will work with you to customize the perfect beach birthday bash!
SPORTS TEAMS
Are you prepared for your best season ever? Is it time to try something that will take your team chemistry to the next level?
Create a sports experience where players can grow and develop both as athletes and as teammates. Ken's unforgettable team building programs* offer fun exercises and activities specifically designed to give your team a competitive and mental edge.
Our programs subtly force interaction between players and even the coaches in order to break the surface-level relationships. As players and coaches connect on a level deeper than athletics, the team chemistry will strengthen as well.
Coaches agree that the likelihood of winning is enhanced when teamwork, perseverance and continuous improvement are the goals of a team. It is widely known that teams whose players respect one another and understand the true notion of teamwork will consistently beat more talented but individually oriented teams. This is our mission at Beach Play Company!
The personal relationships needed to create strong, positive team chemistry can't be solely built during athletics. Athletes are usually too preoccupied with drills, remembering strategy, and pushing their performance to spend time fraternizing with one another. Coaches who schedule occasional activities outside of athletics are providing time for players to connect on personal levels other than their love for the sport.
Ken has taken his extensive training and coaching experience and has developed a winning program to help encourage and develop teamwork, communication and fun into any sports team.
*Each program is designed to your team's particular goals, budget, location and time constraints.
Meet Ken, our founder, and chief playmaker.
Ken Weisner was born in Atlantic City, New Jersey and has called Hilton Head Island home for over 35 years. Ken played college soccer at Francis Marion University in Florence, SC. and holds "D" license with the United Soccer Coaches Association. Coach Ken has worked as a personal trainer, a director of sales and business development, a motivational speaker, a corporate team building facilitator, a club soccer coach, a high school soccer coach and a youth leader for his church. A devoted father of two grown daughters, Ken knows the value of relationships and fun.
"Now that my two daughters are grown and starting their own families, I am enjoying a time in my life that I can direct and focus my love and energy for people, sports and the beach into a combination of services that will create an experience that you and your group will always remember."
We'll Come to you.
Call Today!
843.384.3670